Apply to Study
The Honors College cordially welcomes applications from all incoming science-focused students entering Beijing University of Technology as freshmen. The application process and details will be announced at the end of July or early August after the Acceptance Notice is sent out. Please watch for the deadlines specified on the college website and get the application materials ready. Past experience from applying to Fan Gongxiu Honors College tells us a professionally designed resume, application letter, and supporting documents showing your qualifications will be collected.
The Application Notice of
2022
Fan Gongxiu Honors College is officially posted
HERE
on the college website (in Chinese). The online application was available from
8:00 am, August 8 to 5:00 pm, August 12
via the
http://fgxbm.bjut.edu.cn/
.
For further information about future Fan Gongxiu Honors College Screening Summer Camp Schedules, please refer to the college website each year prior to the general admission period. You can also scan the official college WeChat code to obtain more information.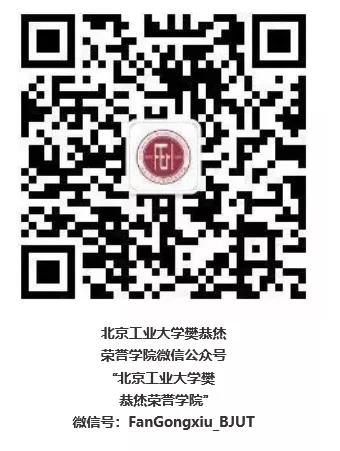 For all inquiries regarding the application, please direct your questions to
– E-mail: fgx-hc@bjut.edu.cn
– Call: +86-10-67396773/67392724/67396770.

Last modified: Monday, 8 August 2022, 2:16 PM